WATCH ON DEMAND: How Purpose-Driven Brands Can Align with Consumer Values in 2022
The WHY behind consumers' decisions to choose or abandon a brand has never been more important. 
How can you proactively align with consumer values and adopt them authentically in your messaging? The answer is in rich, recent, relevant data on what consumers truly value. In this on-demand webinar, you'll learn: 
Why personal values are exceptionally reliable drivers of buying decisions today 

How values reveal crucial differences among similar consumers that help brands engage, convert, and retain them 

Ways to use AI-driven insights on your clients' audiences to create better connections throughout the entire customer lifecycle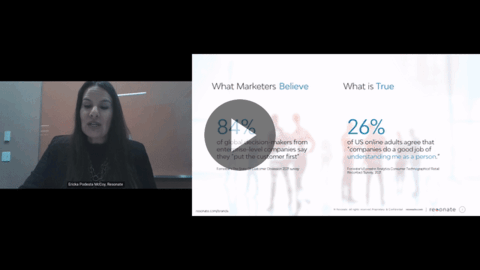 Ericka Podesta McCoy, CMO
Ericka is a global marketing executive experienced in building brands, facilitating growth and driving revenue in the high-tech, telecom, manufacturing, energy and hospitality sectors across North America, Europe and Asia.
Dr. Tom Lacki, Sr. Fellow Research
With two decades of marketing experience and advanced study in cognitive psychology, research methodology, and statistics, Tom is passionate and persistent in solving a broad range of marketing issues across industries, with a special focus on helping clients build productive and profitable customer relationships.