WATCH ON DEMAND: Understand the Humans Behind Your First-Party Data in Record Time
In the current economic climate, every marketer is trying to make their dollars stretch further with their suite of tools and solutions, especially with the busiest season of the year upon us. But tough times become tougher when increasing consumer demand for personalization is met with their demand for privacy. As a marketer, how do you respond? How do you not only survive, but thrive in uncertain times?

Driving growth at all stages of the customer lifecycle in this environment will require understanding what matters most to your target audiences through signals outside your firewall—and the ability to take calculated action immediately on those signals.

That's why Resonate's new Direct Onboarding Solution helps marketers achieve both unprecedented precision and speed. Watch Resonate CRO, Jason Schneider, uncover rich hyper-relevant insights that create meaningful experiences for your target audiences at scale faster than ever before.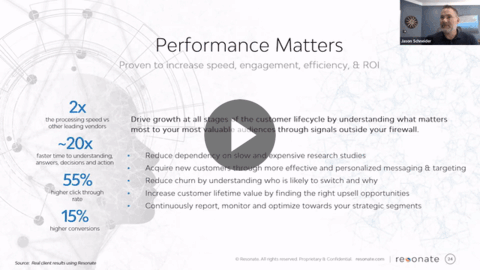 Speaker: Jason Schneider
Chief Revenue Officer